If you're anything like me your home has also become your office, your kids school and playground, and most days it is a victory when we go to bed not having nearly ripped each other apart. I have 2 kids and I really wish they had more spaces to adventure. I consider myself and my family on the very privileged side of what 2020 has been – we have a house, we are all healthy, and my kids are managing the school-from-home situation really well. They have some room to play which is great (one of our first covid purchases was a trampoline), but I have real concern that their belief about the world is that it is small.
Travel has mitigated that awful belief(that the world is small) in my own life, and that is one thing that I feel 2020 has stripped away from me. In 2021 although my paid photography work might still be recovering from all the ways the travel industry has been hit by the pandemic, I can't go another year couped up in our home. Now, I don't mean and definitely don't promote abandoning caution or safety or ignoring the realities of Covid in our world, in fact most of my time is spent taking it very seriously for myself and those I love.
I feel serious relief and excitement that Airbnb is taking it as seriously. I was amazed to see the non-rental options they offer for people looking to have experiences who aren't leaving their homes. Check out some of these holiday online experiences. Their rentals have also been given requirements that will make me feel safe when my family and I get back out there.
Sky Haus
The Sky Haus in Skykomish, WA seems like a great stop. But I may want to get even further away. I've seen some amazing suspended cabin options on the East Coast where it would take some serious time and effort to even get to the closest neighbor. I love how it would offer my wife and I the mental space to slow down and decompress and enough wild open space for my kids to be as wild as I truly hope they remain.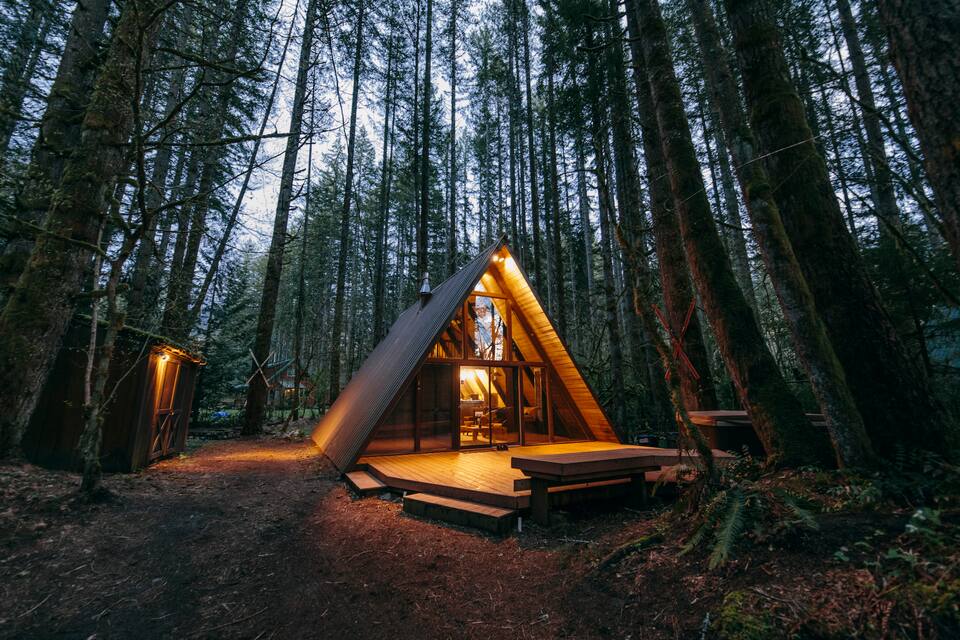 Sitting outside and listening to the wind with a cup of coffee in hand… Imagine it
I love that a super easy way to give a gift could also be to make the ability for some retreat a super easy thing to say yes to. We will have to continue to cooperate with each other and link arms to be safe – but we can also think of ways to do that while making room to live. And if being in new places and trying new things is something that feeds your soul like it does mine lets help each other find ways to do that in the meantime too.