This is very intentionally called a 'dream' because the reality of how long I would want to stay at each of these places would turn this West Coast trip into a couple month getaway. While that sounds great I'm not sure my wife or kids would really dig the idea.
When I was a kid and Christmas time rolled around I would get the JC Penny catalog or anything with a toy section and look around and circle things I wanted. This was how I created my Christmas list – a lot of looking at what was out there that is cool that I might not have even thought about.
Fast forward to my late 20's and I did the same thing – only this time with houses on the market and places I might want to live.
Fast forward a little bit more and now I do the same thing, only with adventures. Places to see, things to experience, ways to plant that same sense of wonder in my girls. So I wanted to put together what might be an amazing drive up the West Coast which is obviously beautiful, varied, and adventurous on it's own – but pair it with some amazing stays that will make the indoor parts of the trip as unique as the outdoors.
Some of my favorite memories in all my travels have been the non-hotel stays I've ended up in. Being hosted by a weird host in weird houses is fun. I've also stayed at some Airbnb spots where the owners have really infused their own sense of style and retreat into the property that has made the stay inspiring and restful all at once.
https://www.airbnb.com/resources/hosting-homes/a/airbnbs-5-step-cleaning-process-277
Whether you go bouldering or hiking at Joshua Tree or take a little drive to Salvation Mountain and the Slabs you can go back to this spot where you'll have plenty of window light. With the lack of light pollution I bet you could even see the stars through every wall in this house. Pair it up with milky-way season and it would make for some epic astrophotography too. As an added bonus your nearest neighbor would be, from what it looks like, about a short plane ride away.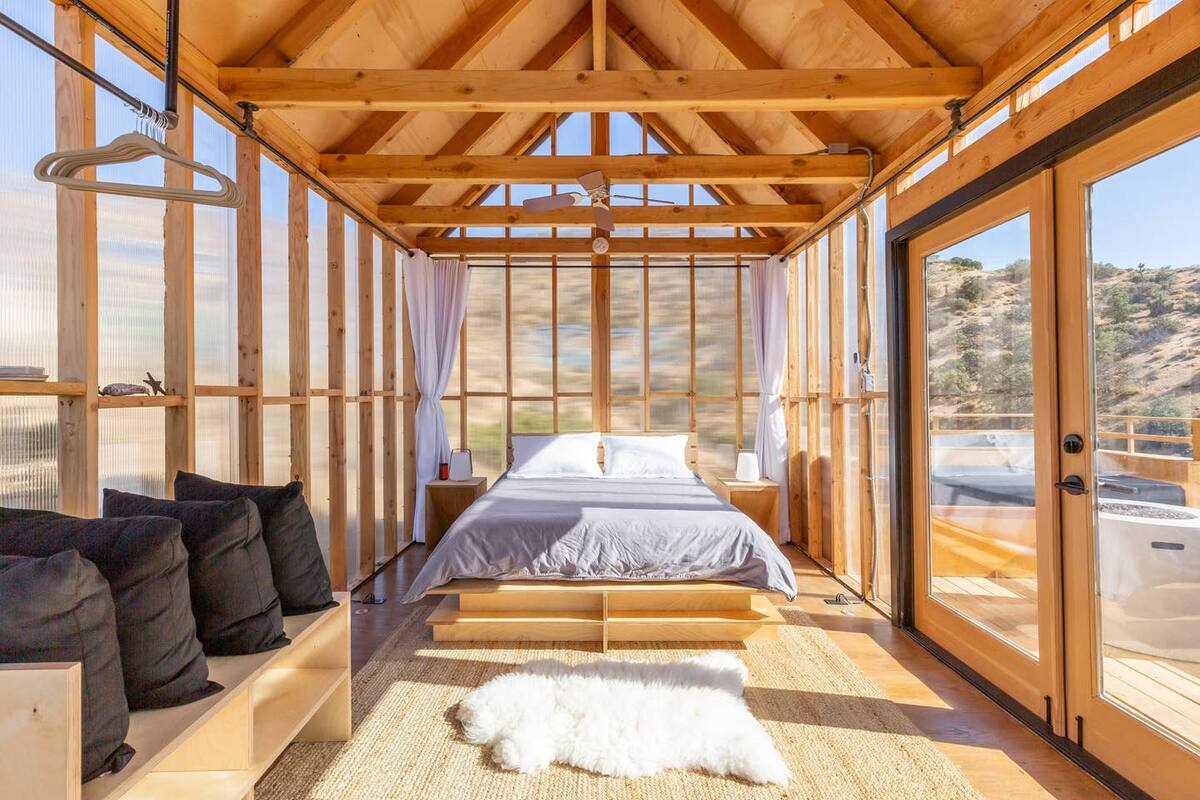 You'll then brave the I-10 West drive all the way to the coast where you'll end in Santa Monica and start your treck north on PCH.
I grew up going to Cambria. My parents would give my sister and I a few shekels here and there for every starfish we found. I touched a sea anemone in Cambria before I ever saw one in an aquarium. The fog rolls in thick here and I love it. The cabin setting on an acre of eucalyptus trees would be hard to leave for some of the quainter cobblestone of Cambria but whether you chose to just stay inside and cozy or go out I couldn't blame you for either. You may want to bring a mountain bike because this is also an amazing spot to ride.
Between the second stop and the third you can use your imagination, find some great stops up in the Point Reyes/SF area to get some rest before continuing north – or go inland just a touch to Yosemite. If you forgot how big California is this will definitely help you remember. You'll have all of Northern California's National Forests to pick from or a massive stretch of beaches or beachside cliffs.
Mt Hood, Trillium Lake, the Columbia River, take your pick. This is truly a choose your own adventure setting. You could even brave a couple hour drive and be at Cannon Beach. And if you're feeling especially weird stop at Portland (a moniker they wear with pride). You may be weary of the beach scenes and just need some chimney smoke, mossy bark, and leaves to pair a good coffee or whiskey to. This would be your spot.
Or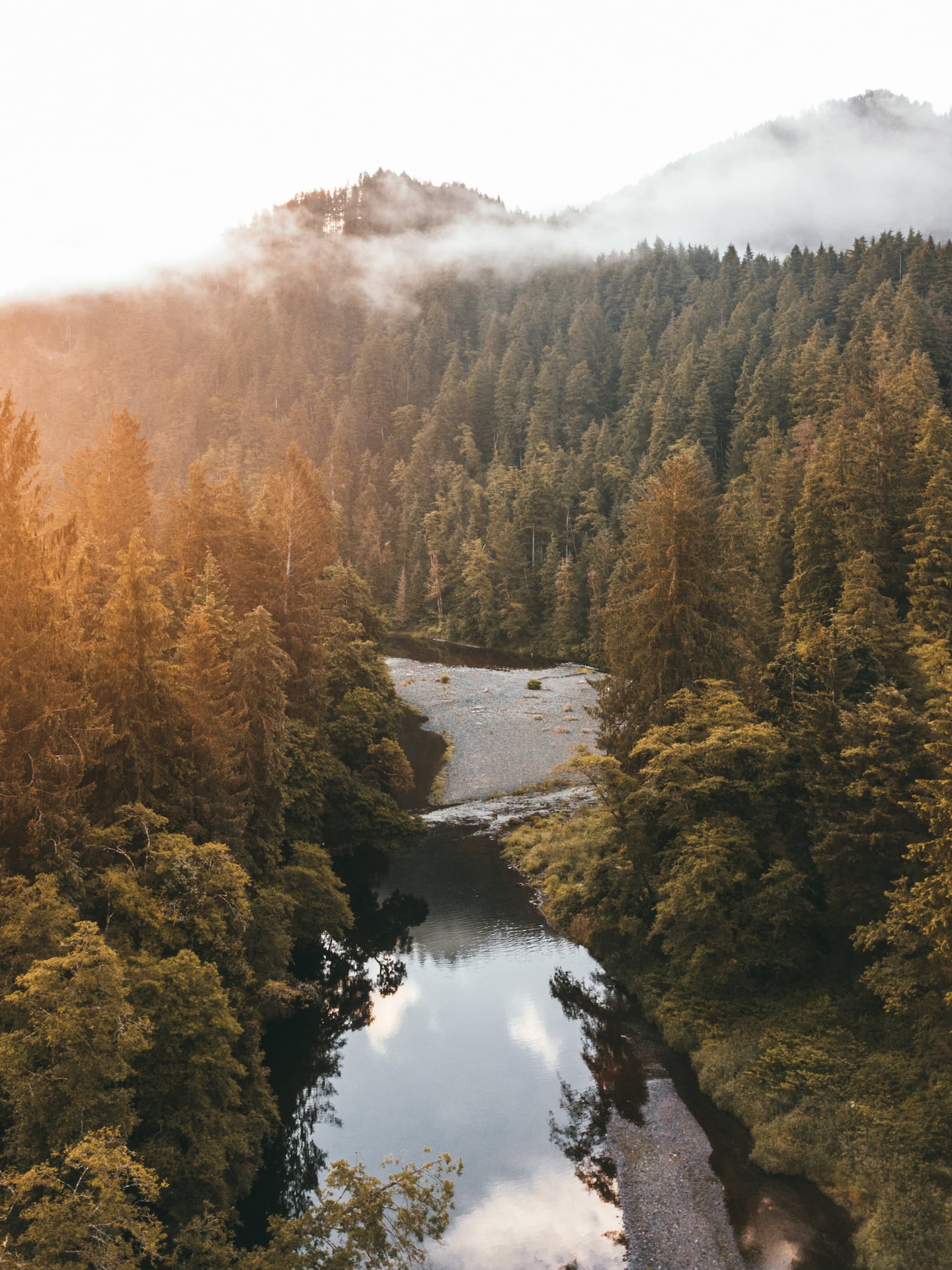 After all that driving you may just need to listen to a river for a few days.
Now for this one, and go with me here, imagine you ended up here on Christmas Day. You start up a fire and the thick snow begins to slowly fall on the backdrop of this cabin lined with those lights. Whether you are a sucker for romance or a photographer or an introvert, or a human being with eyeballs in their head this is a great spot to be.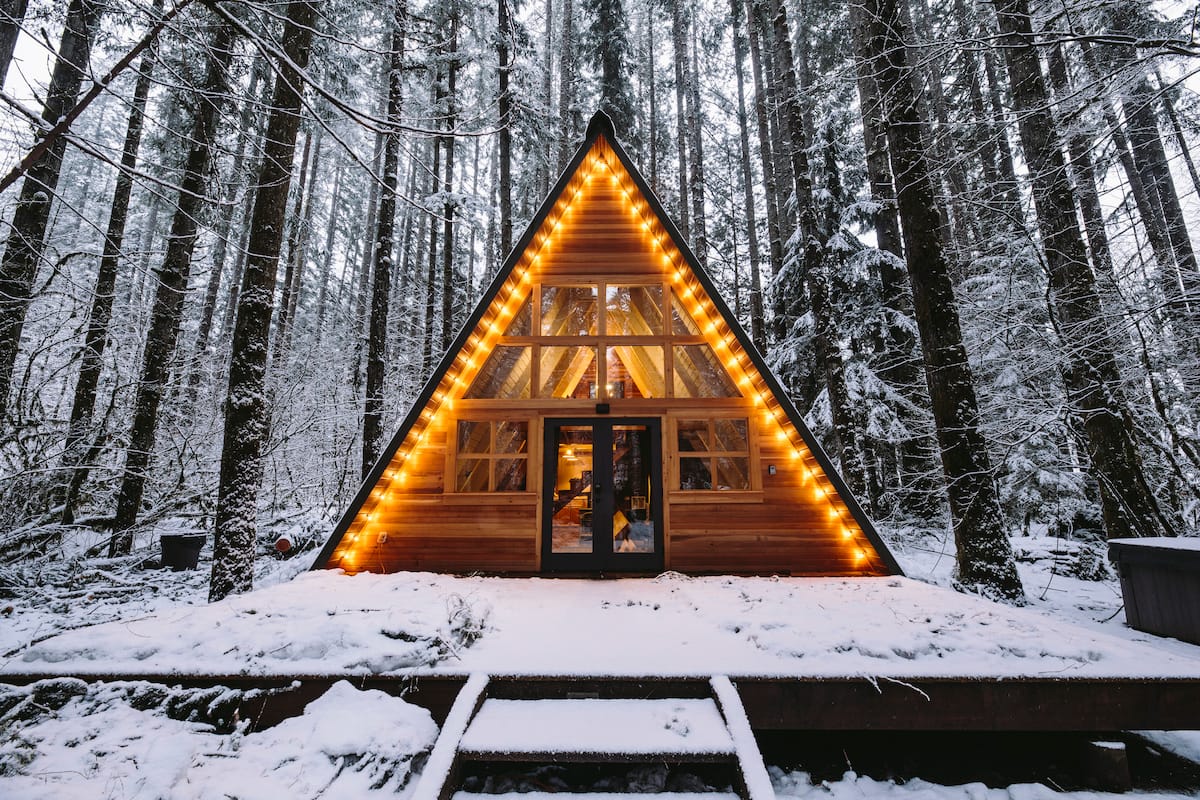 And sure, like I said this would be quite the trek and to do it justice you'd want to soak up all that the properties and locations had to offer so don't be rushed. That being said even one night at these places might be the respite that people might need coming off a year where the walls of their own homes have felt like they are closing in.If you do decide to do travels and stays in 2021 or at the end of this year please do it safely and take care of yourself.
I know there are a lot of opinions and beliefs about what our response should be to the challenge Covid-19 has posed, but we even as we move forward we can do so with our eyes wide open, our imaginations still wild, and all the while being cautious and careful. We share these spaces, not just the cabins but all of these spaces and my hope has always been that we can find ways to engage this world in ways that makes it easier, not harder, for those coming after us.
So go for a drive, find a place where you will feel safe, where you know it has been cared for and get some restoration for your soul however and wherever that is.